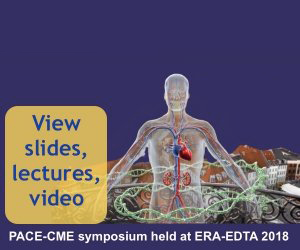 On May 25, 2018, Resverlogix supported a symposium at the European Renal Association – European Dialysis and Transplant Association (ERA‐EDTA) Congress in Copenhagen, Denmark: "Epigenetics in CKD & CVD: A potential breakthrough therapy?"
Symposium Agenda
Introduction - Vincent M. Brandenburg, MD – University Hospital of the RWTH Aachen, Germany.
Kamyar Kalantar-Zadeh, MD – UC Irvine School of Medicine, Irvine, CA, USA. "A clinical view on BET inhibition in CKD & CVD: Understanding recent data and future perspectives."
Erik Stroes, MD – Academic Medical Centre, Amsterdam, The Netherlands. "Cardiovascular disease in diabetes and CKD & residual risk - The promise of epigenetics."
Louise Nordfors, PhD – Karolinska Institute, Stockholm, Sweden. "Epigenetics in CKD: Rationale for BET inhibition, an emerging therapeutic mechanism in renal disease and CVD."
Video Presentations and Symposium Highlights can be accessed HERE