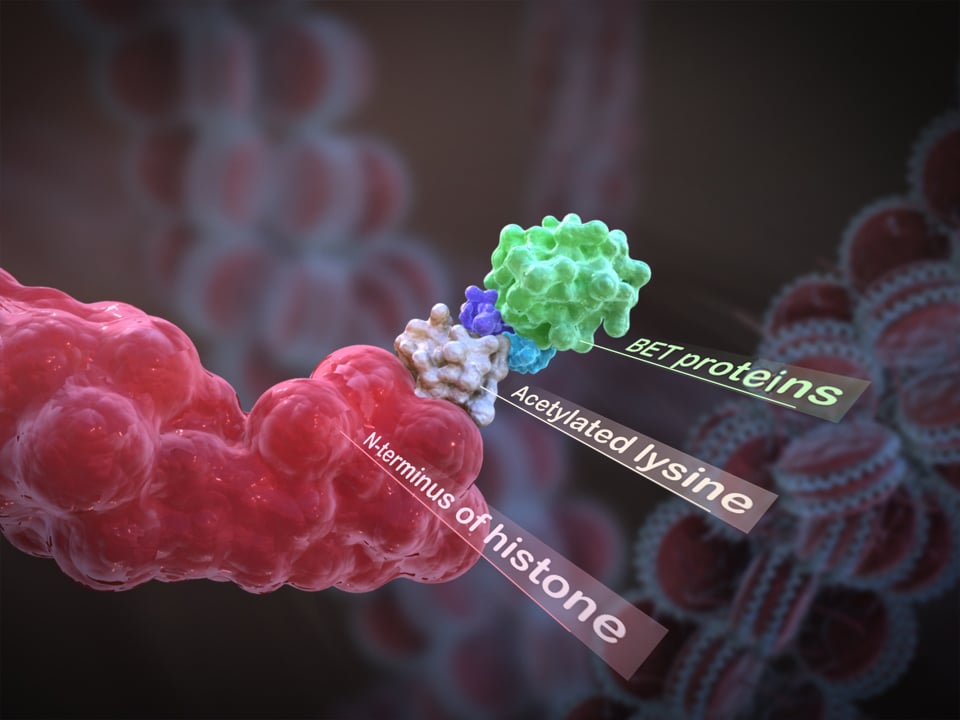 Whether a gene is asleep or awake, in other words dormant or active is depicted in the figure below. On the left there is a chromosome which is comprised of double stranded DNA together with proteins. These two components act in partnership to form a compact structure that fits into the nucleus of a cell.
This partnership between DNA and proteins is not only responsible for chromosome structure it can regulate its activity. The DNA contains genetic information encoded in the sequence of four nucleotide bases. Although DNA contains all this genetic information, by itself it's useless. Think of DNA like a computer hard drive and in order to extract the information from it, software is needed. The proteins binding to and interacting with the DNA act as the software.
As shown in the left side of figure below, for the DNA to be in 'tightly wound up', inactive or in a 'closed' state, it binds to a set of proteins called histones. When the DNA is in the 'closed' state, the genetic information it contains is stored and not actively used.
For the DNA to become active and its genetic code available to be read, it must be converted to an 'open' conformation. For example, in order for the ApoA-I gene to be active and leading to the production of more ApoA-I protein it must be in an open conformation. As the DNA transitions from the closed to the open conformation, it does so by dissolving the partnership with the histones. When the histones leave, other proteins are able to come in and start acting as the software to interpret the genetic information encoded in the DNA. This is how epigenetics controls the activity of certain genes.